Digital India Day 2023 (8th Anniversary)- AI is the Future of FinTech
Bichchhal Paridhi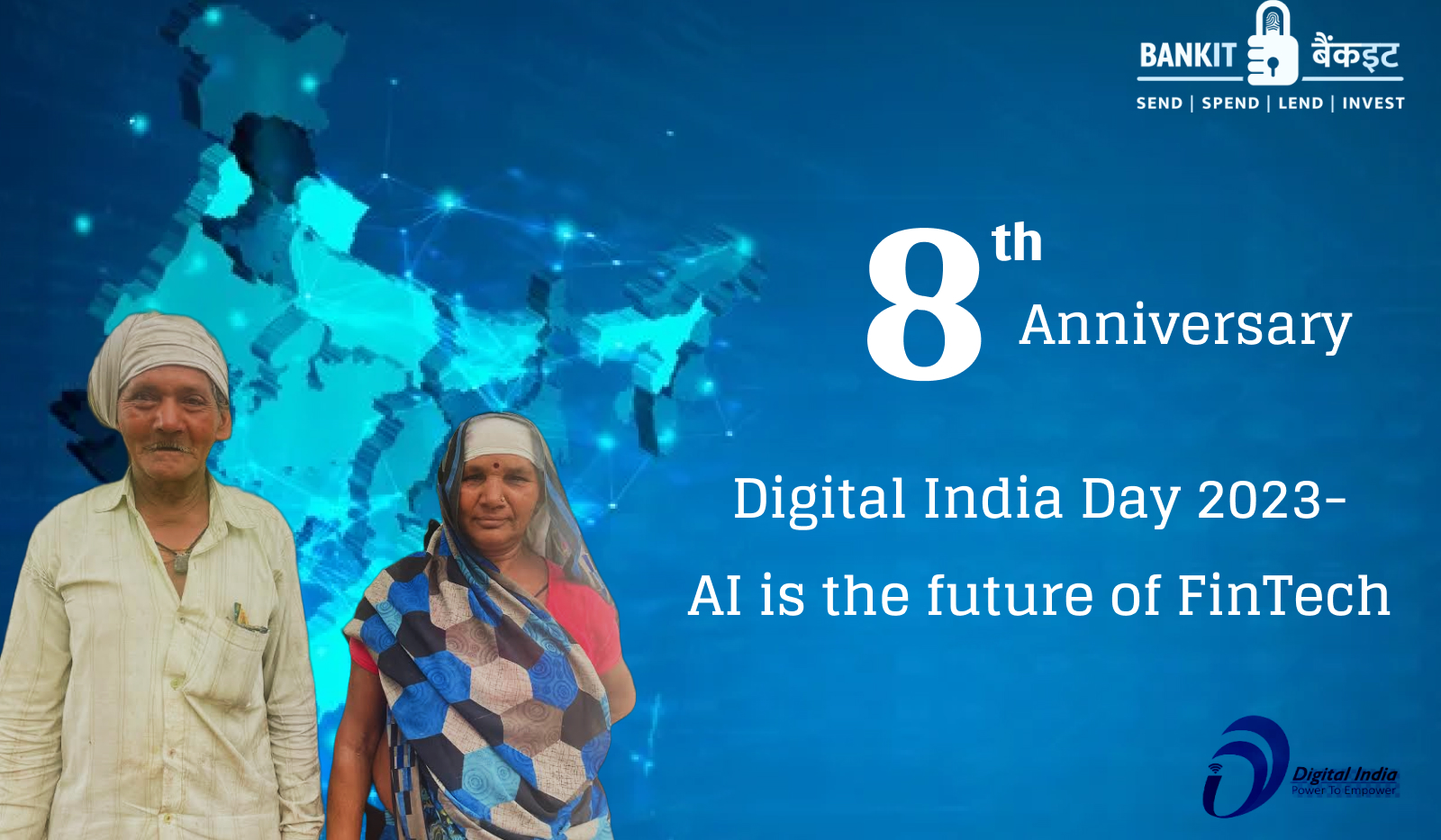 The lives of people in India have been truly transformed by the Digital India Campaign. This campaign has harnessed the power of technology and digital connections to bring about a positive impact on the lives of people, particularly in rural areas.
In the past, people in rural India were often underserved when it came to access to information, communication, and digital tools. This made it difficult for them to participate in the digital economy and to access essential services.
The Digital India Campaign has changed all that. It has provided people in rural India with access to broadband internet, e-governance services, and digital literacy training. This has made it possible for them to connect with the world around them, to learn new skills, and to improve their lives.
For example, farmers in rural India can now use digital tools to access weather forecasts, market prices, and agricultural advice. This has helped them to improve their crop yields and their incomes.
Students in rural India can now use digital tools to access educational resources and connect with other students around the world. This has helped them to stay up to date on their studies and to build their skills.
The Digital India Campaign is a shining example of how technology can be used to improve the lives of people especially in rural areas. It is a model for other countries to follow as they work to bridge the digital divide. Hence, as we celebrate the 8th anniversary of Digital India Day in 2023, it's an opportune time to reflect on the progress we have made and to look ahead to the future.
We need to keep exploring new technologies that can further enhance the positive changes that Digital India has initiated. These advancements have the potential to make a big difference in the lives of people across the country. One such technology that holds immense promise is Artificial Intelligence (AI).
During his recent visit to the United States, Prime Minister Narendra Modi stressed the significance of AI and Google CEO Sundar Pichai talked about opening a FinTech centre in Gujarat and investing in FinTech companies that make use of AI in their modus operandi. AI has the capability to revolutionize how we handle financial services and transactions, making them more efficient, secure, and accessible to all.
In this blog, we will delve into the exciting realm of AI and its impact on the future of FinTech in India. We will explore how AI is transforming the financial landscape, bringing about innovative solutions, and creating new opportunities for individuals and businesses alike. Join us as we unravel the potential and possibilities that AI brings to the world of finance in India.
How is AI shaping the FinTech world?
AI is like a super smart computer brain that can do things just like humans do, but even better! It uses special programs and data to learn and understand stuff. You know, it's like having a clever friend who can think, reason, and solve problems.
AI can be found in lots of things we use every day, like voice assistants on our phones or smart home devices. It helps us by making our lives easier and more convenient. Now, AI is transforming the FinTech industry in incredible ways, making our financial lives easier and more convenient.
With the help of AI, banks, financial institutions, and FinTech companies are now able to detect and prevent fraud faster than ever before. AI algorithms analyze large amounts of data in real time, keeping our hard-earned money safe. Additionally, AI makes it easier for us to get loans and access credit.
Let's have a look at how AI will transform the FinTech world in more innovative ways.
Enhanced Customer Experience: AI-powered chatbots and virtual assistants can give customers personalized and easy experiences. These smart-systems can understand customer questions, give real-time help, and offer customized recommendations. By analyzing a lot of data, AI can find patterns and trends, which allows financial institutions to predict customer needs and provide proactive services.
Risk Assessment and Fraud Detection: AI algorithms can analyze a lot of data to find suspicious transactions, patterns, or anomalies that might indicate fraudulent activity. Machine learning models can keep learning and adapting, which improves their ability to detect and prevent fraudulent activities. By using AI, financial institutions can reduce risks and protect their customers' interests.
Efficient Decision-Making: Traditional banking processes involve manual evaluation and decision-making, often leading to delays and inefficiencies. AI-based systems can automate these processes, streamlining workflows and reducing human errors. Machine learning algorithms can analyze complex data sets, assess creditworthiness, and make data-driven lending decisions. This not only expedites the loan approval process but also increases accuracy, making it easier for individuals and businesses to access financial services.
Personalized Financial Planning: AI-driven algorithms can analyze individual financial data, spending patterns, and investment goals to provide personalized financial planning advice. By leveraging predictive analytics, AI systems can help individuals optimize their investments, plan for retirement, and achieve their financial objectives. This personalized approach empowers users to make informed financial decisions and enhances financial literacy among the masses.
BANKIT: A Digital Champion for Rural India
BANKIT, a FinTech company has been at the forefront of digitalizing rural India. The company's innovative solutions have made it possible for millions of people in remote areas to access basic banking services, such as account opening, cash deposits, cash withdrawals, and money transfers.
BANKIT's approach to digital inclusion is based on the use of digital platforms. These platforms allow the company to provide banking services to people in rural areas who may not have access to traditional bank branches or ATMs.
BANKIT's Agents, who are typically local shop owners in rural areas, use these platforms to provide a wide range of digital banking, financial, and payment services to the people in their neighbourhoods.
In addition to providing banking services, BANKIT also works to educate people in rural areas about the benefits of digital financial services. The company's training programs help people understand how to use digital platforms to manage their money, make payments, and access other financial products.
BANKIT's work has had a significant impact on the lives of people in rural India. The company has helped to reduce poverty, improve financial literacy, and promote economic growth. BANKIT's commitment to using technology as an enabler of financial inclusion is a true example of the Digital India mission.
BANKIT honours the Digital India campaign launched by the Government of India and supports the cause of the campaign to empower rural areas by taking banking services to the rural masses. Moreover, the company is committed to continuing its work to digitalize rural India and to help people in these areas achieve financial inclusion.
Empowering India with AI-Powered FinTech
Artificial Intelligence (AI) has the potential to revolutionize the FinTech industry in India. By automating tasks, improving decision-making, and providing personalized experiences, AI can help banks, other financial institutions, and FinTech companies better serve their customers.
One of the most promising applications of AI in FinTech is in the area of customer experience. AI-powered chatbots can answer customer questions 24/7, while AI-powered analytics can be used to personalize marketing campaigns and product offerings. This can help to improve customer satisfaction and loyalty.
AI can also be used to improve risk assessment. By analyzing large amounts of data, AI can help banks to identify potential risks and make more informed lending decisions. This can help to reduce the number of bad loans and improve the overall financial health of banks.
Finally, AI can be used to improve decision-making. By analyzing historical data and current trends, AI can help banks to make better decisions about investments, pricing, and other strategic matters. This can help banks to increase profits and improve their overall performance.
The integration of AI into FinTech is still in its early stages, but the potential benefits are clear. As AI technology continues to develop, we can expect to see even more innovative applications of AI in the financial services industry.
The Future of FinTech in India
The future of FinTech in India is bright. With a large and growing population, India has a huge potential market for digital banking, financial, and payment services. And with the government's commitment to Digital India, the country is well-positioned to take advantage of the latest FinTech innovations.
Companies like BANKIT are leading the way in digitalizing rural and unbanked populations. As AI technology becomes more affordable and accessible, we can expect to see even more innovative FinTech solutions that help to improve the lives of people in India.
A digitally empowered India is a more inclusive and prosperous India. By embracing AI in the FinTech sector, India can take a giant leap forward in its digital transformation and achieve its full economic potential.